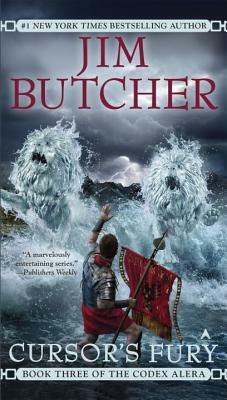 When the power-hungry High Lord of Kalare launches a merciless rebellion against the First Lord, young Tavi of Calderon joins a newly formed legion under an assumed name. And when the ruthless Kalare allies himself with a savage enemy of the realm, Tavi finds himself leading an inexperienced, poorly equipped legion--the only force standing between Alera and certain doom.
In his acclaimed Codex Alera novels, #1 New York Times bestselling author Jim Butcher has created a fascinating world in which the powerful forces of nature take physical form. But even magic cannot sway the corruption that threatens to destroy the realm of Alera once and for all.
Each book in this series gets better and better.

Tavi is a character who is easy to root for. To his core, he is such a good and noble person that you want and hope for him to succeed. I've seen other reviews refer to him as a 'male mary-sue', but I don't really think that's fair. I think that maybe they don't realize that he's not 15 anymore, that he's in his early 20s and has spent the last 4 years training in combat but also to be a spy for the First Lord.

I like that this book followed Tavi a lot more than the previous book did. While the other events that were going on were also important, Bernard and Amara on a risky rescue mission with unreliable allies. That plotline was less interesting to me than what Isana was doing. I would have liked more of her and what she was trying to accomplish, even if there was less action there was more information and some, backstory that was in my opinion glossed over a little. Perhaps in the next book, some of that will come out. Or maybe I'm wrong and just wanted to learn more than we did.

I love Katai, I wish she was in this book more. But I loved all the scenes that she was in. Her relationship with Tavi is so precious, and I truly love how they treat each other as complete equals, even though we all know if Katai wanted to she could kick his ass.

I am very excited to read the next book, I love how events from each book weave into the next, even with the two-year jumps. The epilogue had two big reveals that make me very excited for what is to come.

I've read the same number of Dresden books as I have this series, and I can say with certainty that I like this series more. I still plan on reading more Dresden Files, but not until I complete this series. Luckily this is a shorter series.