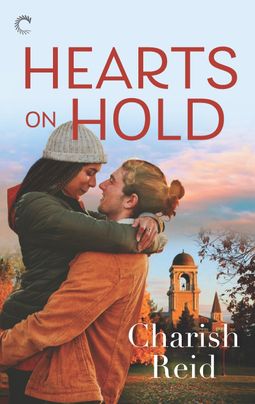 Title:
Hearts on Hold
Author:
Charish Reid
Series:
Stand Alone
Genre:
Romance
Publisher:
Carina Press
Publication Date:
February 3rd, 2020
Edition:
Kindle Edition, 371 pages
Source:
Library
Purchase:
Amazon US
|
Barnes & Noble
|
BAM
What happens in the stacks stays in the stacks…
Professor Victoria Reese knows an uphill battle when she sees one. Convincing her narrow-minded colleagues at the elite Pembroke University to back a partnership with the local library is a fight she saw coming and already has a plan for. What she didn't see coming? The wildly hot librarian who makes it clear books aren't the only thing he'd like to handle.
When a tightly wound, sexy-as-hell professor proposes a partnership between his library and her university, children's department head John Donovan is all for it. He knows his tattoos and easygoing attitude aren't quite what she expected, but the unmistakable heat between them is difficult to resist.
And then there's the intriguing late fee on her record. For the Duke's Convenience… A late fee and a sexy romance novel? There's more to Dr. Reese than she's letting on.
John might like to tease her about her late fee, but when he teases her in other ways, Victoria is helpless to resist. Mixing business with pleasure—and oh, it is pleasure—always comes with risks, but maybe a little casual fun between the sheets is just what Victoria needs.
This book was such a delight to read. Sure, their romantic interactions started a bit early. But it didn't bother me, because that is the point of romance books.

John Donovan the head of the Children's Library department, is the ideal man in many ways. He's kind, he's smart, he cares about his family. He's sexy as hell. He's relationship with his Step-sister and niece, and their moms is wonderful. Struggles with ADD, but still runs his department with professionalism. He's taking care of his niece while his sister is out of the country on business. And he's has to step into the parent role, and deal with the private school she goes to and the teachers second guessing his ability.

Professor Victoria Reese, is in a lot of ways his polar opposite. A lady who always has a plan, and a plan for her plan. She smart and I like how her job actually played a role in the story and we got to see her teach. I think this is a good book to read to see what covert racism, and sexism, looks like. Her boss, wasn't outwardly racist, but he did speak down to her a lot, as well her other female co-workers.

There were a couple things that I would have liked a bit more follow up on, a loose thread in a way. There's a student who Victoria chides for being late to her class, and then feels guilty about how she spoke to him, and I would have liked a little follow to see if they worked out the real reason why he avoided a class he was clearly interested in being in.

I saw a review calling this "workplace sexual harassment"... but that's a bit of a reach. Had Victoria shown disinterest in him, and he kept with the flirtation then, yes. But she was equally interested and he let her call the shots during their first kiss. He never pushed her to do anything she didn't want. He was the one who called for them to have a relationship beyond their steamy hook-ups.

Anyway, this book was a nice quick read, and I loved the characters. I realized reading this book that one of the reasons Romance hasn't worked for me is that the characters are too far away from my age and their drama seems petty. These characters are in the same age group as me, so they actually talked about stuff. It took a bit sometimes, but they did eventually talk about stuff. I plan to read more books by this author too, I really like her writing style.