These are the rules:
1. Grab a book, any book.
2. Turn to page 56, or 56% on your eReader.
3. Find any sentence (or a few, just don't spoil it) that grabs you.
4. Post it.
5. Add the URL to your post in the link on Freda's most recent
Friday 56
post.
Please join us over at
RoseCityReader
every Friday to share the first sentence (or so) of the book you are reading, along with your initial thoughts about the sentence, impressions of the book, or anything else the opener inspires. Please remember to include the title of the book and the author's name.
* * *
So, this was a hard choice. Im not really reading any new books right now. Just the same one from last week still. Im not planning on reading as many books this year as I normally do. So, I'm still on the same book. So I'm choosing a book I've already read, and it's a novella.
* * *
In Night of Cake & Puppets, Taylor brings to life a night only hinted at in the Daughter of Smoke & Bone trilogy — the magical first date of fan-favorites Zuzana and Mik. Told in alternating perspectives, it's the perfect love story for fans of the series and new readers alike.
Petite though she may be, Zuzana is not known for timidity. Her best friend, Karou, calls her "rabid fairy," her "voodoo eyes" are said to freeze blood, and even her older brother fears her wrath. But when it comes to the simple matter of talking to Mik, or "Violin Boy," her courage deserts her. Now, enough is enough. Zuzana is determined to meet him, and she has a fistful of magic and a plan.
It's a wonderfully elaborate treasure hunt of a plan that will take Mik all over Prague on a cold winter's night before finally leading him to the treasure: herself! Violin Boy's not going to know what hit him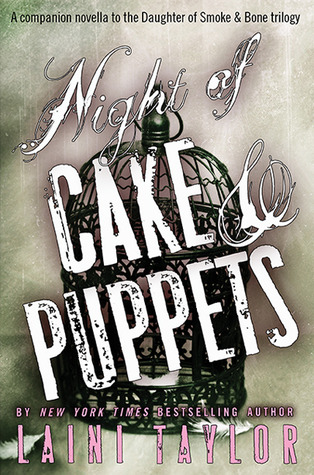 On top of the cabinet in the back of my father's workshop-which was my gradnfather's workshop and will one day be mine, if I want it-there is a puppet.
I like this opening sentence, it's a little vague, but gives enough to grasp my attention.
It's not a bluff! Imrich will do it. He's not entirely sane. I mean look at his cafe! It's full of gas masks and skulls for god's sake.
I love Zuzana. She really is a manic pixie, and this is when the book really starts to get fun.
I hope those of you that have read at least the first book in the Daughter of Smoke and Bone trilogy will give this novella a read. :)