This is a weekly meme hosted by Freda's Voice
These are the rules:
1. Grab a book, any book.
2. Turn to page 56, or 56% on your eReader.
3. Find any sentence (or a few, just don't spoil it) that grabs you.
4. Post it.
5. Add the URL to your post in the link on Freda's most recent
Friday 56
post.
Please join us over at
RoseCityReader
every Friday to share the first sentence (or so) of the book you are reading, along with your initial thoughts about the sentence, impressions of the book, or anything else the opener inspires. Please remember to include the title of the book and the author's name.
This is a re-read, I haven't read it in a while (I think about 9 years) but I think I've read it about 2-3 times in my life. I was late to the Harry Potter game. I didn't really get interested in the books until the movies started coming out when I was in high school.
Harry Potter is midway through his training as a wizard and his coming of age. Harry wants to get away from the pernicious Dursleys and go to the International Quidditch Cup. He wants to find out about the mysterious event that's supposed to take place at Hogwarts this year, an event involving two other rival schools of magic, and a competition that hasn't happened for a hundred years. He wants to be a normal, fourteen-year-old wizard. But unfortunately for Harry Potter, he's not normal - even by wizarding standards. And in his case, different can be deadly.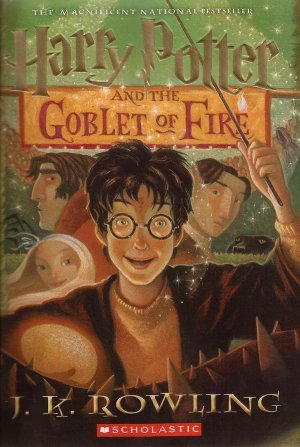 Book Beginning:
The villagers of Little Hangleton still called it "the Riddle House," even though it had been many years since the Riddle family had lived there. It stood on a hill overlooking the village, some of its windows boarded, tiles missing from its roof, and ivy spreading unchecked over its face. Once a fine-looking manor, and easily the largest and grandest building for miles around, the Riddle house was now damp, derelict, and unoccupied.
Page 56:
The room at the top of the house where Ron slept looked much as it did the last time Harry had come to stay: the same posters of Ron's favorite Quidditch team, the Chudly Cannons, were whirling and waving on the walls and sloping ceiling, and the fish tank on the windowsill, which previously held frog spawn, now contained one extremely large frog.
* * * * * * * *
Favorite
There are actually a lot of books with purple covers that I like, so choosing one I liked was hard.
Nah
Very cliche, and the plot kind of is too. It's kind of what you expect from New Adult Urban Fantasy Romance. And with how quickly she writes books, there really isn't that much too her books. I mean, they are grammatically correct, just really cliche.