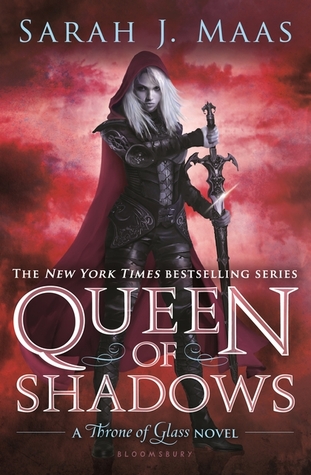 Title: Queen of Shadows
Series: Throne of Glass #4
Genre: Fantasy/Adventure/Fae/Magic
Publication Date: September 1st 2015
Edition: Hardcover, 648 pages
Source: Purchased
Synopsis:
Everyone Celaena Sardothien loves has been taken from her. But she's at last returned to the empire—for vengeance, to rescue her once-glorious kingdom, and to confront the shadows of her past…
She has embraced her identity as Aelin Galathynius, Queen of Terrasen. But before she can reclaim her throne, she must fight.
She will fight for her cousin, a warrior prepared to die for her. She will fight for her friend, a young man trapped in an unspeakable prison. And she will fight for her people, enslaved to a brutal king and awaiting their lost queen's triumphant return.
The fourth volume in the New York Times bestselling series continues Celaena's epic journey and builds to a passionate, agonizing crescendo that might just shatter her world.
Wow, it took me so long to read this book. Way longer than I had expected it to take me. 2 months... I have no idea why I didn't fly through this book. It was amazing, as I've come to expect from Sarah's books. Her writing is so damn good, and she does a fantastic job at tying up loose ends with characters we haven't seen in a long time. I almost had forgotten about Kaltain, whom I don't think we've seen much of since book one.
There was so much going on in this book that one might get worried about plot holes, or underdeveloped characters, but oh-ho not in this book. Manon had so much development and she is so freaking awesome. I was really excited to see what would happen if they teamed up for real, and I still want to see that. Hopefully, in the next book, we can get them to really team up and kick ass.
I honestly don't know how to write this review without giving away huge plot points. Everything just seems so important to the story.
I loved the reveal about Lysandra, I wasn't expecting that at all. Seeing what Dorian went through, through his eyes was really heartbreaking for a multitude of reasons. The reveal about the King himself and why he was at her home that fateful day was kind of a shock, and we still don't really even know how truthful it was.
I legitimately have no idea what could be coming in the next book. Anything could happen next. Especially considering a certain..."incident" happened that I really wasn't expecting to happen until closer to the final book happened in this book. Which threw off my entire theorized plotline. I am so so excited for book 5, heck, I'll take the title at this point.
If you haven't started this series yet, do so soon. You will not regret it.