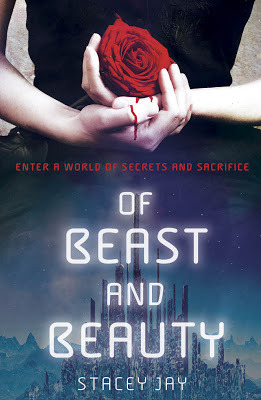 Title:
Of Beast and Beauty
Author:
Stacey Jay
Series:
Stand-alone
Genre:
Re-telling/Fantasy/Sci-fi/Romance
Publisher:
Delacorte Press
Publication Date:
July 23rd 2013
Edition:
Kindle Edition, 402 pages
Source:
Library
Purchase:
Amazon US
|
Kobo
|
Barnes and Noble
|
Book Depository
|
iBooks
|
BAM
Synopsis:
In the beginning was the darkness, and in the darkness was a girl, and in the girl was a secret...
In the domed city of Yuan, the blind Princess Isra, a Smooth Skin, is raised to be a human sacrifice whose death will ensure her city's vitality. In the desert outside Yuan, Gem, a mutant beast, fights to save his people, the Monstrous, from starvation. Neither dreams that together, they could return balance to both their worlds.
Isra wants to help the city's Banished people, second-class citizens despised for possessing Monstrous traits. But after she enlists the aid of her prisoner, Gem, who has been captured while trying to steal Yuan's enchanted roses, she begins to care for him, and to question everything she has been brought up to believe.
As secrets are revealed and Isra's sight, which vanished during her childhood, returned, Isra will have to choose between duty to her people and the beast she has come to love.
This will make the fourth Beauty and the Beast retelling I have read in the past couple years. And it is one of the best. B&tB also seems like the most commonly retold fairy tale. There's more room to take liberties with that story than some of the others.
Honestly, at first, I wasn't sure I was going to like this book. There was the implication that the Princess was one of these "monstrous", and I wasn't sure how that was going to work into the story. I kind of liked Isra more before she knew what she looked like. She used her head more and seemed way smarter about how she made decisions more. Sure having her sight back made her more brave to make certain decisions, but how she went about making those decisions changed with gaining her sight, and it was often not the best course of action.
This book was really entertaining and I really liked how information was revealed about the world and the past, in tales and legends. It was a really interesting way to give the reader information about the world without info-dumping.
The last 100 pages or so was really intense and had me a little on edge. I wasn't sure if there was going to be a happy ending the way I wanted it to have. Some things, for a while there, could have gone either way. I want more books set in this world, but I really loved how everything was wrapped up at the end.
In spite of the nicely wrapped up ending, I want more set in this world. I want to know more of the aftermath. I just want more.