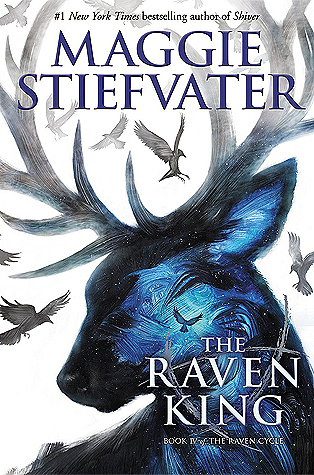 Title:
The Raven King
Author:
Maggie Stiefvater
Series:
The Raven Cycle #4
Genre:
Paranormal/YA/Fantasy
Publisher:
Scholastic Press
Publication Date:
April 26th, 2016
Edition:
Kindle Edition, 448 pages
Source:
Library
Purchase:
Amazon US
|
Kobo
|
Barnes and Noble
|
Book Depository
|
iBooks
|
BAM
All her life, Blue has been warned that she will cause her true love's death. She doesn't believe in true love and never thought this would be a problem, but as her life becomes caught up in the strange and sinister world of the Raven Boys, she's not so sure anymore.
It not only took me what feels like forever to get around to reading the final book in this series, but it also felt like it took me forever to actually read it. This book had really slow pacing, that I don't remember the rest of the series having.
I felt like not a whole lot was happening for most of the book, and I didn't really feel like there was much character development the core characters. I suppose there was a little bit between Adam and Ronan but I had already gathered that was going to happen.
I still liked this book, just not as much as the others in this series. Book 2 remains my favorite, because Ronan is my favorite, and that was a pretty Ronan-central book.
Perhaps I forgot too much from the last book and should have at least re-read my review of book 3 before starting this one. But I was really confused about what was going on with Blue's father. I didn't remember how or why they found him, and what his importance was beyond being a mystery to Blue.
The ending for the search for Glendower was, honestly really underwhelming. I thought it was going to have more of an impact than it did. Have a higher meaning.
As I said, I still liked this book, I'm just not sure if I really enjoyed it that much.