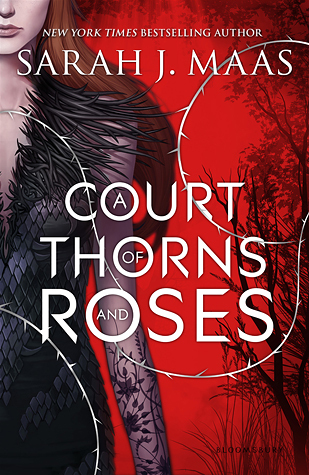 Title:
A Court of Thorns and Roses
Author:
Sarah J. Maas
Series:
A Court of Thorns and Roses #1
Genre:
Re-telling/Romance/Fae
Publisher:
Bloomsbury Childrens
Publication Date:
May 5th 2015
Source:
Purchase
Purchase:
Amazon US
|
Barnes and Noble
|
Book Depository
My Rating:
5 out of 5 stars
Synopsis:
"When nineteen-year-old huntress Feyre kills a wolf in the woods, a beast-like creature arrives to demand retribution for it. Dragged to a treacherous magical land she only knows about from legends, Feyre discovers that her captor is not an animal, but Tamlin—one of the lethal, immortal faeries who once ruled their world.
As she dwells on his estate, her feelings for Tamlin transform from icy hostility into a fiery passion that burns through every lie and warning she's been told about the beautiful, dangerous world of the Fae. But an ancient, wicked shadow grows over the faerie lands, and Feyre must find a way to stop it . . . or doom Tamlin—and his world—forever."
Maas has done it again. I loved this book. The characters were great, the plot was awesome. I loved the way the story progression was done so well. Maas has a way of writing that makes it impossible for me not to love her books. Her characters are always complex and interesting. Her characters are always more than they start off to be.

Feyre, I love her character. Not as much as Celeana, but she is still a pretty great character. Feyre has no glorious ambitions for life. She just wants her sisters to get married so she and her father will have enough food, and so she can continue to paint. But obviously those things don't work out for her.

Tamlin, he was a very interesting and unique character. At first he seems like he is vengeful, and vicious, but it becomes some-what clear that there is more going on with him. At first Feyre is wary of him, and his first on command Luicen, them being the kind of Fae she has always hated and taught were heartless and vicious beings. But as she starts to see past his gilded mask and learns more about him, her feelings grow.

Lucien was a pretty great character as well. I hope to see more of him in the coming books. Feyre's sisters, weren't really big parts of the story, and while I didn't really care for either of them until the end of the book, I wouldn't feel any loss if they aren't in future books. Though part of me thinks they'll have some kind of interaction at some point in the future. (I predict some kind of alliance with the Mortal lands and Prythian to fight against the Fae in Hybern.

Amarantha was a great villain, and even though she doesn't make an appearance until the last 8 or so chapters, she certainly has a presence as well as a constant effect through out the book. Rhysand (Rhys) he was interesting. His motives were never clear. And I really hope to see more of him through the series, and I am really excited for the sequel.