These are the rules:
1. Grab a book, any book.
2. Turn to page 56, or 56% on your eReader.
3. Find any sentence (or a few, just don't spoil it) that grabs you.
4. Post it.
5. Add the URL to your post in the link on Freda's
most recent
Friday 56 post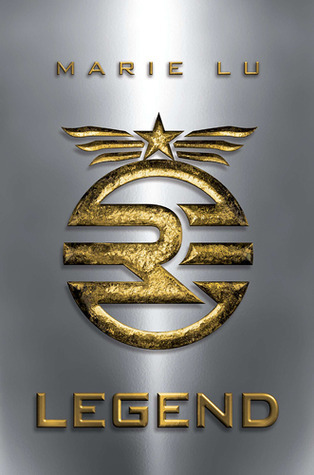 "I gingerly move my ankle in a circle. It's a little stiff, but otherwise pretty painless --no torn muscles, no serious swelling. My bullet wound still burns and my ribs ache something fierce, but this time I'm strong enough to sit up without too much trouble."
This is one of my favorite books, but for some reason, I never wrote an actual review on it. I did for the other two in the series, but not this one. I definitely recommend reading this series.
Book Summary via Goodreads:
What was once the western United States is now home to the Republic, a nation perpetually at war with its neighbors. Born into an elite family in one of the Republic's wealthiest districts, fifteen-year-old June is a prodigy being groomed for success in the Republic's highest military circles. Born into the slums, fifteen-year-old Day is the country's most wanted criminal. But his motives may not be as malicious as they seem.
From very different worlds, June and Day have no reason to cross paths - until the day June's brother, Metias, is murdered and Day becomes the prime suspect. Caught in the ultimate game of cat and mouse, Day is in a race for his family's survival, while June seeks to avenge Metias's death. But in a shocking turn of events, the two uncover the truth of what has really brought them together, and the sinister lengths their country will go to keep its secrets.