This is a weekly meme hosted by Freda's Voice
These are the rules:
1. Grab a book, any book.
2. Turn to page 56, or 56% on your eReader.
3. Find any sentence (or a few, just don't spoil it) that grabs you.
4. Post it.
5. Add the URL to your post in the link on Freda's most recent
Friday 56
post.
Please join us over at
RoseCityReader
every Friday to share the first sentence (or so) of the book you are reading, along with your initial thoughts about the sentence, impressions of the book, or anything else the opener inspires. Please remember to include the title of the book and the author's name.
So, I have been not really in the mood to read any of the unread books I have on my shelf, or the books I am "currently" reading, so I decided to re-read Harry Potter for the, I'm not sure how many times I've read it. But it always helps me get out of a slump. I'm starting with book one, Sorcerer's Stone (or Philosopher depending on where you live)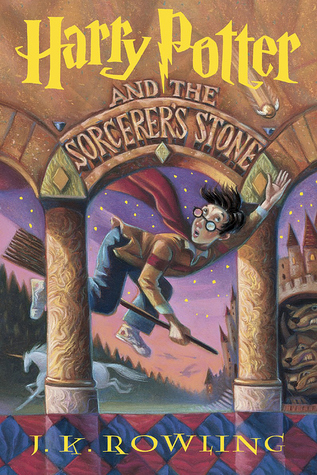 Mr. and Mrs. Dursley, of number four, Privet Drive, were proud to say that they were perfectly normal, thank you very much. There were the last people you'd expect to be involved in anything strange or mysterious, because they didn't hold with such nonsense.
"Now, listen here, boy," he snarled, "I accept there's something strange about you, probably nothing a good beating wouldn't have cured -- and as for all this about your parents, well, they were weirdos, no denying it, and the world's better off without them in my opinion --asked for what they got, getting mixed up with these wizarding types -- just what I expected, always knew they'd come to a sticky end--"
------------------------------------------------------------------
50/50 Friday
is a new weekly link up hosted by
Carrie @ The Butterfly Reader
and
Laura @ Blue Eye Books
. Every week they have a new topic featuring two sides of the same coin - you share a book that suits each category and link up on the hosts' blogs.
(Book cover links to my review)