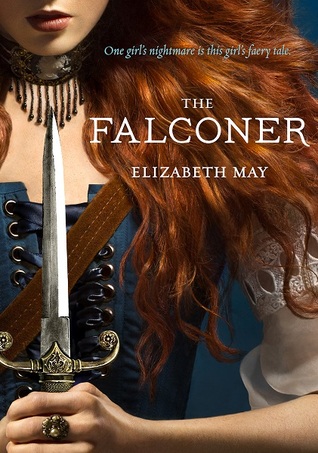 Title:
The Falconer
Author:
Elizabeth May
Series:
The Falconer, #1
Genre:
YA/ Fantasy/Steampunk
Publisher:
Chronicle Books
Publication Date:
May 6th, 2014
Edition:
Kindle Edition, 386 pages
Source:
NetGalley
Purchase:
Amazon US
|
Kobo
|
Barnes and Noble
|
Book Depository
|
BAM
Synopsis:
One girl's nightmare is this girl's faery tale
Edinburgh, 1844. Eighteen-year-old Lady Aileana Kameron, the only daughter of the Marquess of Douglas, has everything a girl could dream of: brains, charm, wealth, a title—and drop-dead beauty.
But Aileana only looks the part of an aristocratic young lady. she's leading a double life: She has a rare ability to sense the sìthíchean—the faery race obsessed with slaughtering humans—and, with the aid of a mysterious mentor, has spent the year since her mother died learning how to kill them.
Now Aileana is dedicated to slaying the fae before they take innocent lives. With her knack for inventing ingenious tools and weapons—from flying machines to detonators to lightning pistols—ruthless Aileana has one goal: Destroy the faery who destroyed her mother.
The last in a line of female warriors born with a gift for hunting and killing the fae, Aileana is the sole hope of preventing a powerful faery population from massacring all of humanity. Suddenly, her quest is a lot more complicated. She still longs to avenge her mother's murder—but she'll have to save the world first.
Review:
So, this book was a surprise. There were moments when the book felt, strange, for lack of a better word. I wasn't expecting it to be as good as it is.
I was half expecting it to be kind of cut-and-paste YA Fantasy story. But it wasn't. There is a romance, but it is really understated and barely there. It only really shows up in the last maybe 3-4 chapters. You sense there is a mild attraction, but it never overshadows her mission. It takes a very big back seat.
I am really glad this was an eBook, because there are some Scottish Gaelic words, that I didn't know how to pronounce, or what they meant. So being able to tap on the word and find out was nice.
There are parts that dragged a little, and I found myself skimming those parts. I really liked the characters, though some felt strange in this book at times. I'm not sure what their bigger purpose will be, if they'll even have one.
I really hope my Library has the sequels, I would like to finish this series. And I really hope the romance never overshadows the more important part of the plot.