This is a weekly meme hosted by Freda's Voice
These are the rules:
1. Grab a book, any book.
2. Turn to page 56, or 56% on your eReader.
3. Find any sentence (or a few, just don't spoil it) that grabs you.
4. Post it.
5. Add the URL to your post in the link on Freda's most recent
Friday 56
post.
Please join us over at
RoseCityReader
every Friday to share the first sentence (or so) of the book you are reading, along with your initial thoughts about the sentence, impressions of the book, or anything else the opener inspires. Please remember to include the title of the book and the author's name.
I've decided to stop adding my thoughts to each passage. Partly because I don't always have anything to say about it, mostly because I don't feel like it anymore.
Danny Tozer has a problem: she just inherited the powers of Dreadnought, the world's greatest superhero. Until Dreadnought fell out of the sky and died right in front of her, Danny was trying to keep people from finding out she's transgender. But before he expired, Dreadnought passed his mantle to her, and those secondhand superpowers transformed Danny's body into what she's always thought it should be. Now there's no hiding that she's a girl.
It should be the happiest time of her life, but Danny's first weeks finally living in a body that fits her are more difficult and complicated than she could have imagined. Between her father's dangerous obsession with "curing" her girlhood, her best friend suddenly acting like he's entitled to date her, and her fellow superheroes arguing over her place in their ranks, Danny feels like she's in over her head.
She doesn't have time to adjust. Dreadnought's murderer—a cyborg named Utopia—still haunts the streets of New Port City, threatening destruction. If Danny can't sort through the confusion of coming out, master her powers, and stop Utopia in time, humanity faces extinction.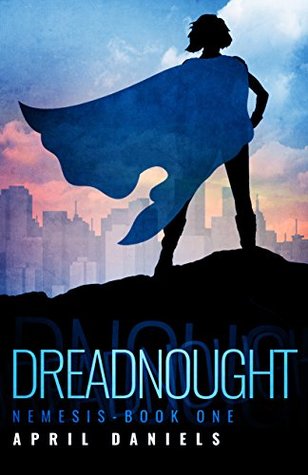 This is taking too long. I just want to pay for the shit and go. It's not like I'm breaking the law or anything except it totally feels like I'm breaking the law. It'd be really cool to be able to do this without shame, without hopping on a train to ride halfway across the city first.
Bosco doesn't seem to expect me to be as fast as I am, because his arms are barely starting to come up when I slam my fist into his nose with the power of a locomotive. He goes backwards end over end and I stay with him and wind up for a kick. My toe catches him in the gut and he goes up.