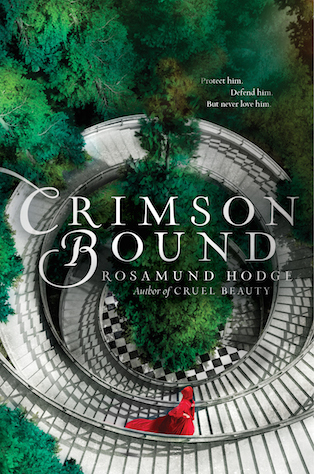 Title:
Crimson Bound
Author:
Rosamund Hodge
Series:
Stand-alone
Genre:
Fantasy/Fairytale Retelling/YA
Publisher:
Balzer + Bray
Publication Date:
May 5th, 2015
Edition:
Kindle Edition, 448 pages
Source:
Library
Purchase:
Amazon US
|
Kobo
|
Barnes and Noble
|
Book Depository
|
iBooks
|
BAM
When Rachelle was fifteen she was good—apprenticed to her aunt and in training to protect her village from dark magic. But she was also reckless— straying from the forest path in search of a way to free her world from the threat of eternal darkness. After an illicit meeting goes dreadfully wrong, Rachelle is forced to make a terrible choice that binds her to the very evil she had hoped to defeat.
Three years later, Rachelle has given her life to serving the realm, fighting deadly creatures in an effort to atone. When the king orders her to guard his son Armand—the man she hates most—Rachelle forces Armand to help her find the legendary sword that might save their world. As the two become unexpected allies, they uncover far-reaching conspiracies, hidden magic, and a love that may be their undoing. In a palace built on unbelievable wealth and dangerous secrets, can Rachelle discover the truth and stop the fall of endless night?
Inspired by the classic fairy tale Little Red Riding Hood, Crimson Bound is an exhilarating tale of darkness, love, and redemption.
(This is a standalone novel, not part of the Cruel Beauty Universe.)
I really love it when a re-telling is done well. And this was done very well. It's not a straight re-telling, some liberties were taken and those liberties made the story seem more original and interesting, and less like a re-telling. It was basically a less obvious re-telling. And I like those more than obvious ones.
Rachelle is a pretty interesting character, her self-loathing is pretty much what drives her to do what she does. Her guilt in how she became one of the creatures she was raised to fight against is completely understandable. Though I have no mental image of what she looks like. Either I missed something, or it was never really mentioned what color of hair she has, or the color of her eyes. Same can be said for pretty much every character. They have French sounding names, so I can assume they are all relatively pale, and that the story is set in a French-type country.
The mythology in this book was really interesting, and I loved the parts where it was telling the tale of how the Devourer was first defeated. It added a depth to the book that many retellings don't add.
My only major complaint, other than the character's appearance not really ever being mentioned (unless I just missed that part entirely), is the romance between Rachelle and Armand just kind of came out of nowhere. She spent 90% of the book loathing and hating him, but then she is suddenly confessing her love for him. It was weird, and I'm not entirely sure the story needed the romance aspect at all. Or, it could have had more hints that she was slowly falling for him, or at least had a reason to fall for him. This might just be me, and I once again missed something that made it more obvious as to when and why she started to fall for him.