This is a weekly meme hosted by Freda's Voice
These are the rules:
1. Grab a book, any book.
2. Turn to page 56, or 56% on your eReader.
3. Find any sentence (or a few, just don't spoil it) that grabs you.
4. Post it.
5. Add the URL to your post in the link on Freda's most recent
Friday 56
post.
Please join us over at
RoseCityReader
every Friday to share the first sentence (or so) of the book you are reading, along with your initial thoughts about the sentence, impressions of the book, or anything else the opener inspires. Please remember to include the title of the book and the author's name.
I started this book on Monday evening around 10pm, and I read just under half of it in a couple hours. I actually had to force myself to put the book down and go to sleep. I was tired, but I wanted to keep reading as this series is fantastic.
Some kisses come at a price.
War has begun. Arin is in the thick of it with untrustworthy new allies and the empire as his enemy. Though he has convinced himself that he no longer loves Kestrel, Arin hasn't forgotten her, or how she became exactly the kind of person he has always despised. She cared more for the empire than she did for the lives of innocent people—and certainly more than she did for him.
At least, that's what he thinks.
In the frozen north, Kestrel is a prisoner in a brutal work camp. As she searches desperately for a way to escape, she wishes Arin could know what she sacrificed for him. She wishes she could make the empire pay for what they've done to her.
But no one gets what they want just by wishing.
As the war intensifies, both Kestrel and Arin discover that the world is changing. The East is pitted against the West, and they are caught in between. With so much to lose, can anybody really win?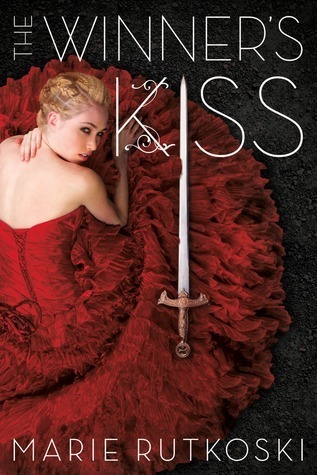 He told himself a story.
Not at first
At first, there wasn't time for thoughts that came in the shape of words. His head was blessedly empty of stories then.War was coming. It was upon him.
Great opening. This series is one of the best I have read. The poetic writing, the characters, the character development. The world, and setting.
"Dear ghost, he will tie you and me up and dump us both into a very deep hole before he allows you to do what you plan to do."
"No more allowing," Kestrel said, "and no more lies."
Kestrel is one of the best female characters I have ever read. She is a very balanced person and character. Rare in a lot of YA sometimes.