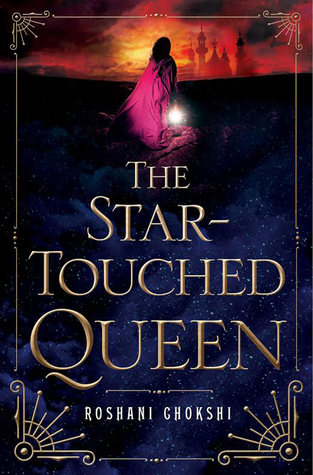 Title:
The Star-Touched Queen
Author:
Roshani Chokshi
Series:
Star-Touched Queen #1
Genre:
Fantasy/Mythology/ YA Romance
Publisher:
St. Martin's Griffin
Publication Date:
April 26th, 2016
Edition:
Kindle Edition, 352 pages
Source:
NetGalley
Purchase:
Amazon US
|
Kobo
|
Barnes and Noble
|
Book Depository
|
iBooks
|
BAM
Synopsis:
Cursed with a horoscope that promises a marriage of Death and Destruction, sixteen-year-old Maya has only earned the scorn and fear of her father's kingdom. Content to follow more scholarly pursuits, her world is upheaved when her father, the Raja, arranges a wedding of political convenience to quell outside rebellions. But when her wedding takes a fatal turn, Maya becomes the queen of Akaran and wife of Amar. Yet neither roles are what she expected. As Akaran's queen, she finds her voice and power. As Amar's wife, she finds friendship and warmth.
But Akaran has its own secrets - thousands of locked doors, gardens of glass, and a tree that bears memories instead of fruit. Beneath Akaran's magic, Maya begins to suspect her life is in danger. When she ignores Amar's plea for patience, her discoveries put more than new love at risk - it threatens the balance of all realms, human and Otherworldly.
Now, Maya must confront a secret that spans reincarnated lives and fight her way through the dangerous underbelly of the Otherworld if she wants to protect the people she loves.
That was one hell of a read. I barely know where to start.
The writing was wonderful, the characters were very interesting, and the plot was nothing like I have ever read before. This is the first time I have read a book that had a focus on Hindu/Buddhist lore. And it was beautiful. They have some of the most interesting myths and mythology. This story is set in a mythical Indian setting.
Maya was a very interesting character. For about half the book I was really on the fence about where this story was going, mostly because I had no idea where it was headed. Nothing was predictable, and that makes this book awesome, but it did slow down things for a good chunk of the book for me.
Amar was also a huge mystery, but I loved his character. It took a while to learn much of anything about him, and even at the end I still had questions about him that I would have liked to be answered. I really want there to be more to this story and world, but the events connected to this story were wrapped up nicely.
I'm not sure what I can say that might not be a spoiler. The writing was very poetic at times, and while that can sometimes turn me away from books because the writing can become wordy to the point where the story isn't being progressed and the author is just using pretty words in the place of plot and character development.
The second half of this book was a complete 180 in many ways from the first half. Maya has to go through so much and has some really awesome character development in a very short amount of time.
There was a twist that happens very shortly before the second half, that I wasn't really expecting, and I love it when I am actually surprised by a twist. Sometimes, a twist will happen that is supposed to be a huge shock that I predicted 100 pages before. Which can be a shame. This twist though, I wasn't expecting it at all, and I really liked the way things went from there, and how Maya went about solving the situation.
I will say one thing though, and it might have just been me, but when the magic was being described as they were using it, I just couldn't picture it at all. Again, it could just be me, and not an actual problem with the writing.
Bottom line, this book was phenomenal.