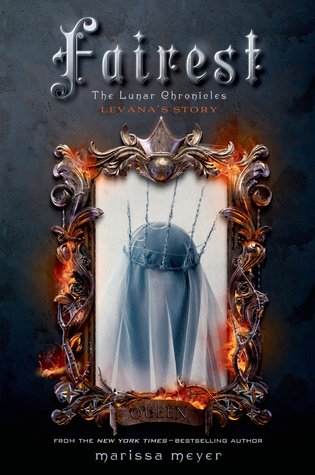 Title:
Fairest
Author:
Marissa Meyer
Series:
Lunar Chronicles #3.5
Genre:
Fantasy/YA/Sci-fi
Publisher:
Feiwel & Friends
Publication Date:
January 27th 2015
Edition:
Kindle Edition, 256 pages
Source:
Library
Purchase:
Amazon US
|
Kobo
|
Barnes and Noble
|
Book Depository
|
iBooks
|
BAM
Mirror, mirror on the wall,
Who is the fairest of them all?
Fans of the Lunar Chronicles know Queen Levana as a ruler who uses her "glamour" to gain power. But long before she crossed paths with Cinder, Scarlet, and Cress, Levana lived a very different story – a story that has never been told . . . until now.
I was unsure if I even wanted to read this book for a long time. I knew I didn't want to buy it. This book is considerably shorter than the rest of the series, and I didn't really want to spend 17$ on a 200 page book, especially since I have limited shelf space. Anyways, on to the review.
Levana, I don't think she can be called evil. Not after reading this book at least. When someone is treated with only cruelty, that's all they know how to give. She was a very sad little girl, who only wanted to feel loved. I did not expect to feel bad for her. I did not expect her sister to be the actual sadistic one. Her sister was kind of pure evil in many ways.
But it doesn't completely excuse some of her actions. I know she thought she was doing it out of the good of her people but she was doing it out of selfishness. She just assumed that her niece would be as vapid as her sister, never giving the girl a chance. Selene wouldn't have the same raising as
they did. She could have had a more loving raising, Levanna could have taught her to care more about court politics and customs and raised her to be the same kind of leader she was. But she let petty jealousy get in the way not even giving the girl a chance.
While it was her desperation for wanting to be loved, and she went about things all wrong trying to gain his attention, I did also feel really bad for the man she loved never loving her back. And since Levanna had always been called the ugly unwanted princess she didn't dare try and trust that he could love all of her for how she actually looked.
I really do hope she gets some kind of redemption by the end of Winter. Even though she has done some really horrible things, I think she deserves some kind of happiness. This book kind of brings to mind the back story and such of Regina from Once Upon a Time. Not always evil, but if only a couple things had been different she would have been a very different person.
I am even more excited to read Winter now.