This is a weekly meme hosted by Freda's Voice
These are the rules:
1. Grab a book, any book.
2. Turn to page 56, or 56% on your eReader.
3. Find any sentence (or a few, just don't spoil it) that grabs you.
4. Post it.
5. Add the URL to your post in the link on Freda's most recent
Friday 56
post.
Please join us over at
RoseCityReader
every Friday to share the first sentence (or so) of the book you are reading, along with your initial thoughts about the sentence, impressions of the book, or anything else the opener inspires. Please remember to include the title of the book and the author's name.
Once a century, one person is chosen for greatness.
But she is also the younger of two princesses, the one who has never done anything remarkable. She can't see how she ever will.
Now, on her sixteenth birthday, she has become the secret wife of a handsome and worldly king—a king whose country is in turmoil. A king who needs the chosen one, not a failure of a princess.
And he's not the only one who seeks her. Savage enemies seething with dark magic are hunting her. A daring, determined revolutionary thinks she could be his people's savior. And he looks at her in a way that no man has ever looked at her before. Soon it is not just her life, but her very heart that is at stake.
Elisa could be everything to those who need her most. If the prophecy is fulfilled. If she finds the power deep within herself. If she doesn't die young.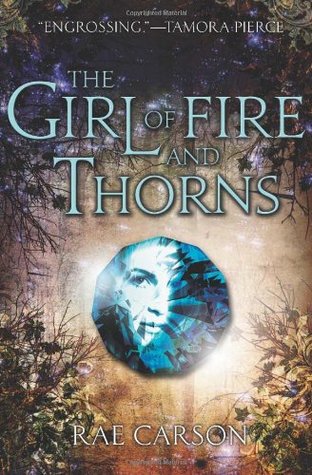 Book Beginning:
Prayer candles flicker in my bedroom, The
Scriptura Sancta
lies discarded, pages crumpled, on my bed. Bruises mark my knees from kneeling on the tiles, adn the Godstone in my navel throbs. I have been praying- no, begging- that King Alejandro de Vega, my future husband, will be ugly and old and fat.
Thoughts:
I m not very far into this book yet, and I just don't know what to think of anything. I kind of really hate the protagonist. She always talks about how she's a failure, and worthless. Maybe that's the point. She doesn't think or behave how other "hero" characters do.
My 56:
He sips again. With his free hand, he reaches forward and flicks his fingers with irritated nonchalance. My companions freeze. I stare at them, eyes wide with terror, as they choke and wheeze, unable to move. This is sorcery, I realize, and my Godstone flares in response.