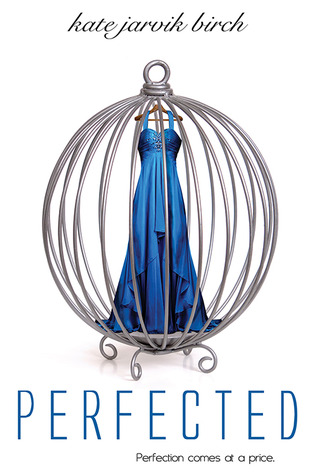 Title:
Perfected
Author:
Kate Jarvik Birch
Series:
Perfected #1
Genre:
YA/Dystopia/Science Fiction
Publisher:
Entangled Teen
Publication Date:
July 1st 2014
Edition:
Kindle Edition, 400 pages
Source:
Given by Publisher via NetGalley for review
Purchase:
Amazon US
|
Kobo
|
Barnes and Noble
|
Book Depository
|
BAM
Synopsis:
Perfection comes at a price.
As soon as the government passed legislation allowing humans to be genetically engineered and sold as pets, the rich and powerful rushed to own beautiful girls like Ella. Trained from birth to be graceful, demure, and above all, perfect, these "family companions" enter their masters' homes prepared to live a life of idle luxury.
Ella is happy with her new role as playmate for a congressman's bubbly young daughter, but she doesn't expect Penn, the congressman's handsome and rebellious son. He's the only person who sees beyond the perfect exterior to the girl within. Falling for him goes against every rule she knows… and the freedom she finds with him is intoxicating.
But when Ella is kidnapped and thrust into the dark underworld lurking beneath her pampered life, she's faced with an unthinkable choice. Because the only thing more dangerous than staying with Penn's family is leaving… and if she's unsuccessful, she'll face a fate far worse than death.
This book started out as one thing and became something else. About halfway through, this book took a pretty dark turn. And quite honestly I don't really care for the comparison to The Selection series. They really don't have all that much in common other than a girl who wears fancy dresses the whole book. The characters and the plot are completely different.
I'm trying to find the right words for this review. There are themes that came across a little, far fetched. Like how all the wealthy men we meet in this book are completely okay with people owning other people as "pets". I can only assume that the people we meet are all in the Senators political party and they share the same views, but still, you'd think there'd be at least one that was against it in some way. The idea that a law like that could be passed in the first place is also pretty far fetched.
There are a decent handful of small plot holes that don't really add up in the grand scheme of the book. Heck people are against stem cell research, so the idea that people would be totally cool and on board with people genetically making people that are then sold to only the rich doesn't make a whole hell of a lot of sense.
However, this book was really entertaining, and I am loving the characters. The dark underbelly of the world, a world that could have used some better building and explanation I might add, was a great addition to a book that could have other wise been pretty dull, if it was only about a "pet" that started to fall for the son of her owner. It was more than a romance, more than a forbidden romance, and I am really looking forward to reading the sequel.