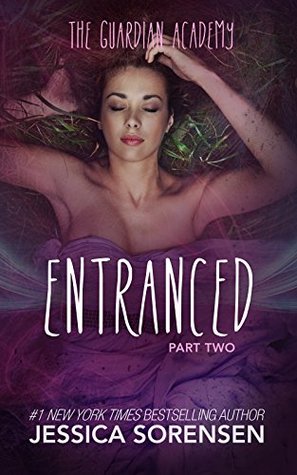 Title:
Entranced: Part Two
Author:
Jessica Sorensen
Series:
Guardian Academy #2
Genre:
Urban Fantasy/Romance/Mystery
Publisher:
Borrowed Hearts Publishing LLC
Publication Date:
November 30th 2015
Edition:
Kindle Edition
Source:
Gifted by Author for Review
Purchase:
Amazon US
|
Kobo
|
Barnes and Noble
|
iBooks
Synopsis:
Alana Avery's life is becoming complicated. The more she looks into her grandfather's case, the guiltier he looks. And Jayse, her best friend in the world, has been acting strange, but refuses to tell her what's going on.
On top of everything going on at home, more tagged paranormal creatures are popping up everywhere, and her grandfather might be linked to one of their deaths.
But as Alana digs further into the case, she realizes she may have just put herself in danger and that her grandfather's killer might now be coming after her.
I am really enjoying this series. Though I really wish they were full length books rather than short stories.
Alana is a pretty great character. She is smart, caring and sassy. I also really like Jax, even though he's a little mysterious, I find him to be a good balance for Alana. He's quiet and a little stoic to her sometimes brash behavior.
But I really really hope that a love triangle doesn't form involving Jax's brother, that'd be a little annoying.
There were a couple of grammatical errors that I think could use some light editing, but other than that, this was a really solid story.
There is a character in this book/series that I don't trust at all. She is the headmaster or whatever, of the academy and she just hates the MC for apparently no reason. Not only is that highly suspicious but it's very unprofessional and doesn't make sense. I'd like some answers for why she feels the way she does, and soon.