These are the rules:
1. Grab a book, any book.
2. Turn to page 56, or 56% on your eReader.
3. Find any sentence (or a few, just don't spoil it) that grabs you.
4. Post it.
5. Add the URL to your post in the link on Freda's most recent
Friday 56
post.
Please join us over at RoseCityReader every Friday to share the first sentence (or so) of the book you are reading, along with your initial thoughts about the sentence, impressions of the book, or anything else the opener inspires. Please remember to include the title of the book and the author's name.
In the three kingdoms of Mytica, magic has long been forgotten. And while hard-won peace has reigned for centuries, a deadly unrest now simmers below the surface.
As the rulers of each kingdom grapple for power, the lives of their subjects are brutally transformed... and four key players, royals and rebels alike, find their fates forever intertwined. Cleo, Jonas, Lucia, and Magnus are caught in a dizzying world of treacherous betrayals, shocking murders, secret alliances, and even unforeseen love.
The only outcome that's certain is that kingdoms will fall. Who will emerge triumphant when all they know has collapsed?
It's the eve of war.... Choose your side.
Princess: Raised in pampered luxury, Cleo must now embark on a rough and treacherous journey into enemy territory in search of magic long thought extinct.
Rebel: Jonas, enraged at injustice, lashes out against the forces of oppression that have kept his country cruelly impoverished. To his shock, he finds himself the leader of a people's revolution centuries in the making.
Sorceress: Lucia, adopted at birth into the royal family, discovers the truth about her past—and the supernatural legacy she is destined to wield.
Heir: Bred for aggression and trained to conquer, firstborn son Magnus begins to realise that the heart can be more lethal than the sword....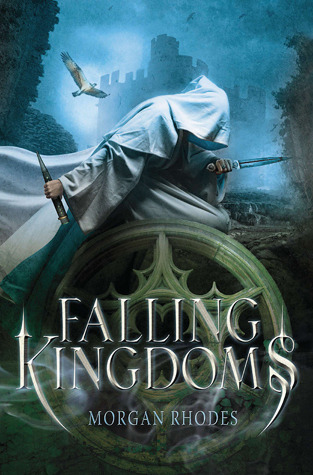 Book Beginning:
She'd never killed before tonight.
"Stay back," her sister hissed.
Thoughts:
I'm being as vague as possible here. This book has a really great opening and I want to keep things as much of a mystery as possible.
Page 56:
Auranos
"Do you have a problem with that?" There was something in the kings gaze that betrayed his otherwise casual manner this afternoon. Something restrained below the surface. Cleo's words of protest died on her lips. There was no way her father could know her secret.... could he?
Thoughts:
I love this series, but in comparison to the rest of the books that are out, this one is slightly boring, there wasn't any great options for the 56 this time, and that book that I'm currently reading had an very dull 56, so I went with a book that I've already read.