Mirror X by Karri Thompson
Mirror X Review Quotes:
"I applaud the author for taking some crazy ideas and spinning them into a new dystopian that
can be unique in the genre that has been flooded in the wake of more big name books in recent years."-
Rae Sontheyon
Mirror X Excerpt / Teaser:
Michael took a seat on the edge of my bed, rocking me toward him. When the side of my thigh met his knee, my heart rate doubled, and I drew in a deep breath.
"Before you were awakened I spent hours at your bedside imaging what you were like, how your voice would sound, how you looked when you smiled. When your red lips pulsed, when your chest heaved, and you took your first breath, I kept my emotions in check. But now, now that you've 'awakened,' everything is different. I can't sleep. I can't stop thinking about you."
I ignored the pain and tilted closer until the space between our faces was less than a foot. My heart, my mind, my soul—everything yearned for his affection at that moment.
"I feel the same way, too."
I closed my eyes, wanting this handsome, earnest guy to take me into his arms and tell me he'd make them let me go. My lungs expanded with his warm breath and spicy scent. When his lips met mine, every atom in my body danced, urging me to pull him closer and tighten my grip upon his back.
His kissing became more fiery and I reacted by kissing him harder. It wasn't until his mouth moved to my neck, that I came to my senses and drew away.
"Not yet," I said, scooting away.
"I know," he said between breaths, rising from the bed. His wiped his forehead with the sleeve of his uniform and returned to the chair. "I can't…we can't. We can never…," he said abruptly. "It's against protocol. I-I should go."
Mirror X Synopsis:
I was born more than a thousand years ago.
Put into a cryogenic tube at age seventeen, forgotten during a holocaust that decimated the world, I've finally been awakened to a more serene and peaceful future.
But things at the hospital are new and strange. And it's starting to scare me.
Everyone is young. Everyone is banded and tracked. And everyone is keeping secrets.
The cute geneticist Michael Bennett might be the only good thing in this crazy new world where "life is precious" but no one seems free to live it. The problem is, I don't think he's being totally honest with me, either.
When I'm told only I can save the human race from extinction, it's clear my freeze didn't avoid a dreadful fate. It only delayed the horror…
Karri Thompson Bio:
Growing up in San Diego, California, Karri Thompson spent much of her years at the beach, reading novels,tanning,and listening to hard rock. At SDSU, she majored in English with the goal of becoming an author. Once she became a wife, mother, and high-school English teacher, her dream came true, and all of the plots and characters in her head finally found a home. Victorian literature rocks her socks, and when she 's not writing, she's reading Dickens.
The Book of Ivy by Amy Engel
The Book of Ivy Review Quotes:
"Well-developed characters and intricate world-building combined with complex relationships, political corruption, and betrayal, leave readers begging for the second book in this series." —School Library Journal
"I enjoyed this novel so much that I polished it off in two sittings. There is no insta-love! There is no love triangle! Best of all, the protagonist actually has common sense, and she uses it! The slow-to-develop relationship is believable, and both Ivy and Bishop are easy to relate to. Waiting anxiously for Book 2!" —Julie at Magna Mania Cafe
"Thought-provoking, poignant, and sexy! Readers will burn the midnight oil to finish The Book of Ivy and fall asleep with the name Bishop Lattimer on their lips." —Regina at Mel, Erin and Regina Read-A-Lot
The Book of Ivy Excerpt / Teaser:
"We haven't slept together or shared secrets together or done much of anything together, really. But in perhaps the most important way of all, everything's altered since those first hesitant nights. Because by being the person I come home to, the person who asks me about my day and listens to my answers, Bishop's become the constant my life revolves around. Even if most of the time we navigate so carefully we might as well be bombs trying not to explode, we are still always there, in each other's paths. Just waiting for the moments we intersect." —The Book of Ivy by Amy Engel
The Book of Ivy Synopsis:
After a brutal nuclear war, the United States was left decimated. A small group of survivors eventually banded together, but only after more conflict over which family would govern the new nation. The Westfalls lost. Fifty years later, peace and control are maintained by marrying the daughters of the losing side to the sons of the winning group in a yearly ritual.
This year, it is my turn.
My name is Ivy Westfall, and my mission is simple: to kill the president's son—my soon-to-be husband—and return the Westfall family to power.
But Bishop Lattimer is either a very skilled actor or he's not the cruel, heartless boy my family warned me to expect. He might even be the one person in this world who truly understands me. But there is no escape from my fate. I am the only one who can restore the Westfall legacy.
Because Bishop must die. And I must be the one to kill him…
Amy Engel Bio: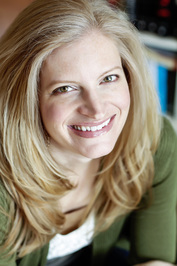 Amy Engel is the author of THE BOOK OF IVY (out now) and its sequel, THE REVOLUTION OF IVY, which will be available on November 3, 2015. In addition, her debut adult novel (gothic suspense), THE ROANOKE GIRLS, is forthcoming from Crown in early 2017. Amy lives in Missouri with her husband and two children.