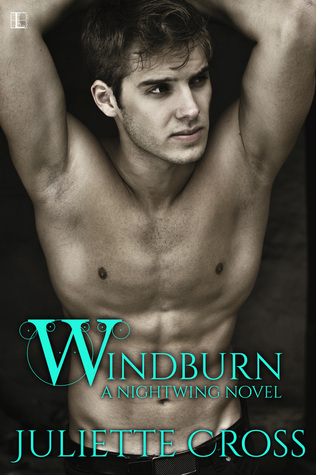 Title:
Windburn
Author:
Juliette Cross
Series:
Nightwing #2
Genre:
Urban Fantasy/Adult/Romance/Dragons
Publisher:
Lyrical Press
Publication Date:
February 3rd 2015
Pages:
ebook, 91 pages
Source:
Purchased
Purchase:
Amazon US
|
Kobo
|
Barnes and Noble
|
iBooks

Synopsis:
No man can win her heart—until now…
In the Gladium Province, the boundaries between humans and Morgons, the dragon-hybrid race, continue to blur as a new generation surrenders to long-forbidden temptation…
Sorcha Linden does whatever she wants whenever she wants, and no one can stop her. Least of all a man. After all, they're good for only one thing—warming her bed. But then she meets Lorian Nightwing, brother of Lucius. Seductive and iron-willed, he is determined to melt her emotional defenses—and warm her rebellious heart.
The beast within Lorian longs to cage Sorcha and mark her as his own. Forever. Yet the man within also longs to protect her. When a stalker starts leaving Sorcha suggestive gifts with cryptic messages bearing an ancient blood cult symbol, Lorian's dragon side takes over. With her life at stake, Sorcha can no longer deny the love they share. But when evil tracks her into the night, will she be too late to claim it?
I am really loving this series, and this author, and her characters.
Lorian, whom we meet in the first book
Soulfire
and in the first book of the other series
Waking the Dragon
but didn't really get to know, is such a great character. While he has that "alpha-male" persona, he isn't really that cliche. He's domineering but not pushy, he is protective with out being possessive.
Sorcha, who's name I'm not really sure how it's pronounced, is fiery and sassy. But uses that to hide that she is still hurting over her father abandoning both her and her mother when she was a child. There were times when it was clear she was denying herself what she wanted just because she didn't want to be vulnerable. Her sass was funny on more than one occasion.
The plot of this book was more than just Sorcha opening her self to someone else, this was the first book where the crazy Morgon cult Larkosians.
I really love this world and these characters, I am really excited to read the rest of the series and the other books in her other series about these Dragon Hybrids.