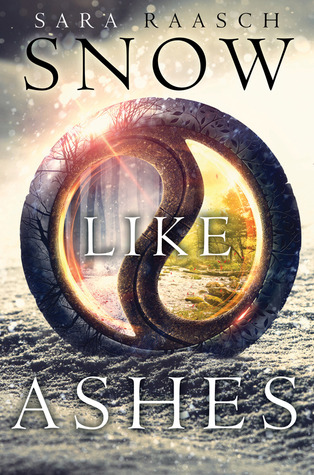 Series: Snow Like Ashes #1
Genre: YA/Fantasy/Adventure/Romance
Publisher: Balzer + Bray
Publication Date: October 14th, 2014
Source: Purchased
Synopsis:
Sixteen years ago the Kingdom of Winter was conquered and its citizens enslaved, leaving them without magic or a monarch. The Winterians' only hope for freedom is the eight survivors who managed to escape, and who have been searching for the opportunity to steal back Winter's magic and rebuild their kingdom ever since.
Orphaned as an infant during Winter's defeat, Meira has lived her whole life as a refugee. Training to be a warrior—and desperately in love with her best friend, Winter's future king—she would do anything to help Winter rise to power again. So when scouts discover the location of half of the ancient locket that can restore their magic, Meira decides to go after it herself—only to find herself thrust into a world of evil magic and dangerous politics, and to realize that her destiny is not, never has been, her own.
So, I started this book around 10pm the other night, and I finished it around 1:30am the next morning. Didn't even realize it was that late until I was done with the book.
When I go to read a book that has been really hyped, I always read a bunch of negative reviews as well as the positive ones, I even read the ones where people gave it a mediocre review. I like hearing all sides of what people think of certain books.
I freaking loved this book. There were a couple of tiny things that I didn't really like. (There's a scene with a crossbow being used on horseback.... that is impossible with those medieval crossbows. They were heavy and bulky. Not really usable on horseback.) Another thing was the naming of the Capitol cities of the Season realms, they kind of rhymed with the months (Spring's capital is Abril, and Winter's was Januari) Didn't really care for that.
Meira was a pretty interesting character. Her anger and annoyance at not being allowed to be useful in the way she wanted, was understandable. Though at times, she overreacted a little. I wasn't too surprised at the reveal near the end of the book, but I really don't mind all that much. For a story to be good it doesn't have to surprise you all the time.
Mather, I don't really know what to think of him. He was in this book so little that I have yet to form an opinion of him. He seems like an interesting character though and I hope he gets more page time in future books.
Theron, eh... I don't really care for him all that much. His presence was mostly there so there was a "love triangle", but thankfully that wasn't really pushed that much. Especially when nobody ended up with anyone at the end of this book.
All the supporting characters were great, and I hope we see more of the villain. He was really interesting so I want to see more of him. There was so much mystery surrounding him in a way that reminded me of The Darkling from The Grisha trilogy.