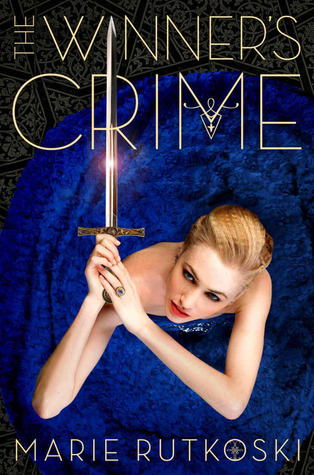 Title:
The Winner's Crime
Author:
Marie Rutkoski
Series:
Winner's Trilogy #2
Genre:
Historical Fiction/YA High Fantasy/War
Publisher:
Farrar Straus Giroux
Publication Date:
March 3rd 2015
Pages:
ebook, 416 pages
Source:
eLibrary
Purchase:
Amazon US
|
Kobo
|
Barnes and Noble
|
Book Depository
The engagement of Lady Kestrel to Valoria's crown prince means one celebration after another. But to Kestrel it means living in a cage of her own making. As the wedding approaches, she aches to tell Arin the truth about her engagement... if she could only trust him. Yet can she even trust herself? For—unknown to Arin—Kestrel is becoming a skilled practitioner of deceit: an anonymous spy passing information to Herran, and close to uncovering a shocking secret.
As Arin enlists dangerous allies in the struggle to keep his country's freedom, he can't fight the suspicion that Kestrel knows more than she shows. In the end, it might not be a dagger in the dark that cuts him open, but the truth. And when that happens, Kestrel and Arin learn just how much their crimes will cost them.
Part of me regrets reading this one so soon after the first. Because now I have to wait for what seems like forever for the third book, and I have a mighty need to read it right now. I must know how everything unfolds.
This book was really intense. Kestrel is trying to lock away her feelings for Arin, to keep him and his country men safe. The Emperor is a little sadistic, and Kestrel's father is blindly loyal to him. She is trying endlessly to pretend to be happy, but the Emperor keeps playing games with her. He knows how she feels for Arin, even though she'd never said it. She is not so good at hiding her feelings towards others as she thinks, even though she convinced Arin that she didn't feel the same as he felt for her. Arin is in his homeland, trying, tirelessly to forget his feelings for Kestrel. He is trying to convince himself that he doesn't love her, but at the same time, that she returns his feelings.
The entire book broke my heart. And had me on edge. More than once I wanted to shake both Kestrel and Arin and yell at them "YOU LOVE EACH OTHER, STOP ACTING LIKE THIS AND KISS!"
The more I read, the more nervous I became for how the third book will possibly end. I don't see it being exactly a happy ending, even though I desperately want them to have one.
This book kind of focused a little more on the romance aspect of the story than the first, but in a good way. Kestrel was trying to postpone marrying the Emperor's son, it almost felt like she was holding out hope that something would happen so she could be free. And poor Arin, took it as a knife to his heart. But he didn't know what she traded her freedom for his life. She was little better than a slave now.
There was a bit more espionage, in this one than the first. Now Kestrel is the spy, but she isn't quite as good at it as Arin was. The interactions between Arin and Kestrel were few, but most of what was said broke my heart.
The ending really got to me, I wasn't expecting that to happen. I am still reeling from what her father did, I am really surprised. He seems to love the Empire more than his daughter, and it sickens me a little.
I wish I had the third book in my hands right now, but at the same time, after what this book has put me through in the, roughly, 5 hours it took me to read I'm not sure I could have survived reading the entire trilogy in one shot.