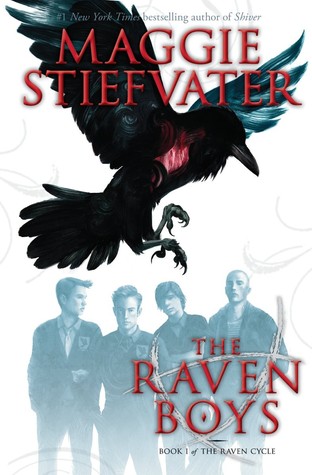 Title:
The Raven Boys
Author:
Maggie Stiefvater
Series:
The Raven Boys #1
Genre:
Paranormal/Ghosts/Mystery
Publisher:
Scholastic Press
Publication Date:
September 18th 2012
Source:
Kobo Purchase
Purchase:
Amazon US
|
Kobo
|
Barnes and Noble
|
Book Depository
My Rating:
5 stars
Synopsis
"It is freezing in the churchyard, even before the dead arrive.
Every year, Blue Sargent stands next to her clairvoyant mother as the soon-to-be dead walk past. Blue herself never sees them—not until this year, when a boy emerges from the dark and speaks directly to her.
His name is Gansey, and Blue soon discovers that he is a rich student at Aglionby, the local private school. Blue has a policy of staying away from Aglionby boys. Known as Raven Boys, they can only mean trouble.
But Blue is drawn to Gansey, in a way she can't entirely explain. He has it all—family money, good looks, devoted friends—but he's looking for much more than that. He is on a quest that has encompassed three other Raven Boys: Adam, the scholarship student who resents all the privilege around him; Ronan, the fierce soul who ranges from anger to despair; and Noah, the taciturn watcher of the four, who notices many things but says very little.
For as long as she can remember, Blue has been warned that she will cause her true love to die. She never thought this would be a problem. But now, as her life becomes caught up in the strange and sinister world of the Raven Boys, she's not so sure anymore."
Review:
This book. Oh, man this book. Amazing, wonderful, and engaging. Those are just a few words that I can use to describe this book.
It had a pretty slow start, and the first few chapters I was a little unsure if I was going to like it or not. But then it picked up, and kept getting better and more intriguing and the mystery got more and more interesting.
I loved Blue and Gansey's first meeting. It was kind of funny, especially when they realize who one another are in the long run of things. I an only imagine that Gansey isn't really used to people talking to him the way she did, except by his close friends.
Ronan is possibly my favorite character, and he really wasn't in this book very much, but from reading the synopsis of the sequel he gets more page time in that book, and I can't wait. He is the most open and honest of the Raven Boys. He may be a little crass, but he doesn't bullshit.
Honestly, Adam was kind of my least favorite. There was just something about him that I can't put my finger on that makes me just not really care for his character. But I am curious to where his place in the story will lead.
Noah, I liked him and his place in the story was the most interesting and surprising. I wasn't expecting it to go where it did.
I am really anxious to read the sequel. But part of me is okay with waiting for all the books to come out and buy a box set and binge read the series.