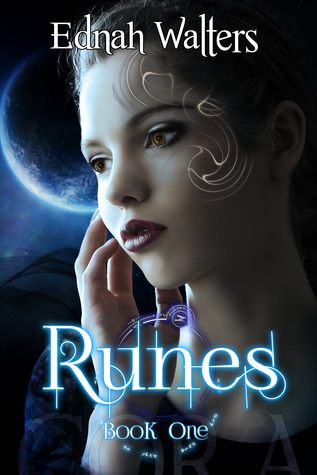 Title:
Runes
Author:
Ednah Walters
Series:
Runes #1
Genre:
YA/Urban Fantasy/ Mythology
Publisher:
Firetrail Publishing
Publication Date:
June 8th 2013
Source:
Free through Amazon Kindle
Purchase:
Amazon US
|
Barnes and Noble
|
Kobo
|
Book Depository
My Rating:
3/5 stars
Synopsis:
"Seventeen-year-old Raine Cooper has enough on her plate dealing with her father's disappearance, her mother's erratic behavior and the possibility of her boyfriend relocating. The last thing she needs is Torin St. James—a mysterious new neighbor with a wicked smile and uncanny way of reading her.
Raine is drawn to Torin's dark sexiness against her better judgment, until he saves her life with weird marks and she realizes he is different. But by healing her, Torin changes something inside Raine. Now she can't stop thinking about him. Half the time, she's not sure whether to fall into his arms or run.
Scared, she sets out to find out what Torin is. But the closer she gets to the truth the more she uncovers something sinister about Torin. What Torin is goes back to an ancient mythology and Raine is somehow part of it. Not only are she and her friends in danger, she must choose a side, but the wrong choice will cost Raine her life."
Review:
This book was enjoyable. There were some parts that I had issue with, like changing mythology to fit the story, for seemingly no reason other than just doing it. There were a couple other changes to the mythology that bothered me, but they are a little spoiler-y.


The characters were mostly fine. Raine had some fairly realistic responses to the weird crap that started happening around her, some of the time. But sometimes the pacing was a little off. There were a couple times when some kind of revelation happened, and she had a reaction for like 2 seconds, then she was all. "Well, that's weird and I'm freaking out, but I have swim practice, so I'll talk to you later." Times like that, it wasn't realistic.

Torin, he was a little generic. Bad-boy type, dark hair blue eyes, rides a motorcycle, kind of a stalker, very secretive. But I liked his character better than the others.

Cora and Eirik (dumb way to spell Eric btw), they almost felt unneeded. Cora is a little flaky, and Eirik, he was just confusing. He was strangely posessive, but not in a creepy way. He seemed to be keeping secrets from Raine, but she never confronts him on how he knows Torin's family after weird things start to happen.

It was entertaining, but way too many pop-culture references. They were pretty over used. I'll probably read the rest of the series, I got the second book from NetGalley, so I'll be reading that one at least.