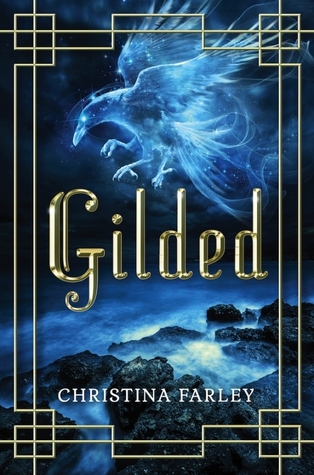 Title:
Gilded
Author:
Christina Farley
Series:
Gilded #1
Genre:
YA/ Mythology/ Urban Fantasy
Publisher:
Skyscape
Publication Date:
March 1st 2014
Source:
Amazon Kindle store
Purchase:
Amazon US
|
B&N
|
Book Depository
My Rating:
3.5 / 5 stars
Synopsis:
Sixteen-year-old Jae Hwa Lee is a Korean-American girl with a black belt, a deadly proclivity with steel-tipped arrows, and a chip on her shoulder the size of Korea itself. When her widowed dad uproots her to Seoul from her home in L.A., Jae thinks her biggest challenges will be fitting in to a new school and dealing with her dismissive Korean grandfather. Then she discovers that a Korean demi-god, Haemosu, has been stealing the soul of the oldest daughter of each generation in her family for centuries. And she's next.
But that's not Jae's only problem.
There's also Marc. Irresistible and charming, Marc threatens to break the barriers around Jae's heart. As the two grow closer, Jae must decide if she can trust him. But Marc has a secret of his own—one that could help Jae overturn the curse on her family for good. It turns out that Jae's been wrong about a lot of things: her grandfather is her greatest ally, even the tough girl can fall in love, and Korea might just be the home she's always been looking for.
Review:
This book was a really entertaining read. One of the things that I liked about it was the fact that the author used a different kind of mythology to tell her story. The books that use Greek mythology are a dime a dozen. You see them just about everywhere.
Jae was a pretty likable character. She was neither an angst driven character, nor one who was rebellious for rebellious sake. But she wasn't the kind of character that goes out of her way to please everybody at her own unhappiness. Though she is more annoyed than angry at her father for moving them to Korea after her mothers death. She still tries to do well in school, and excel at everything she does. The cute flirtation between her and Marc was nice. She likes him, but she desperately wants to move back to California. So she doesn't try too hard to form any relationships. I also really liked the 'best friend' character in Michelle. She was funny and sassy.
The mythology aspect was really interesting, I have always been a fan of mythology. But I've never read a book that used Eastern Mythology. The book kind of had a slow start, and it did take me a couple chapters to really get into the story. But once I did, I flew through the book. I am really looking forward to reading the sequel. (Which I already have.)