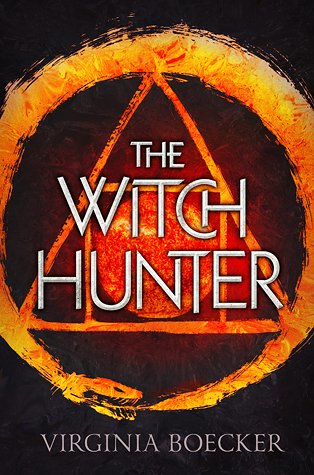 Title:
The Witch Hunter
Author:
Virginia Boecker
Series:
Witch Hunter #1
Genre:
Fantasy/Witches/ Historical Fantasy (kind of)
Publisher:
Little Brown Books
Publication Date:
June 2nd 2015
Source:
NetGalley
Pre-Order:
Amazon US
|
Barnes and Noble
|
Kobo
|
Book Depository
My Rating:
4 out of 5 stars
Synopsis:
"Your greatest enemy isn't what you fight, but what you fear.
Elizabeth Grey is one of the king's best witch hunters, devoted to rooting out witchcraft and doling out justice. But when she's accused of being a witch herself, Elizabeth is arrested and sentenced to burn at the stake.
Salvation comes from a man she thought was her enemy. Nicholas Perevil, the most powerful and dangerous wizard in the kingdom, offers her a deal: he will save her from execution if she can break the deadly curse that's been laid upon him.
But Nicholas and his followers know nothing of Elizabeth's witch hunting past--if they find out, the stake will be the least of her worries. And as she's thrust into the magical world of witches, ghosts, pirates, and one all-too-handsome healer, Elizabeth is forced to redefine her ideas of right and wrong, of friends and enemies, and of love and hate."
Review:
This book was so, so good. I started reading it while reading an other book in a similar genre, so at first it was a little tough to keep them separate. But once I finished the other book, and was able to focus more on this one, I was instantly swept into the story and world.
This is a historical fiction/fantasy set around the time of the Witch trials. With many of the books in this setting we generally only see the trials from the witches perspective, never from the hunters. At first the story was a little cut and paste. Girl, has crush on long time best friend who doesn't see her for anything more than a best friend and fighting companion. But as soon as he realizes that she caught another's eye he wants to "save her" when she gets captured.
The romance was possibly my least favorite part of the story. I didn't feel that it was really needed to tell this story and part of me thinks it would have been better with out the triangle. She has feelings that are possibly deeper than friendship for Caleb, but as soon as she meets another guy (John) that's also attractive she starts to "fall in love" with him. While I didn't mind her having feelings for John, the ones she harbors for Caleb didn't feel real in a way.
All that aside. I did really like she didn't jump on "witches aren't so bad" bandwagon quickly. It took her time, and she really struggled with it once she realized that not all magic was bad, and that it was people that could make it bad. I didn't really like her character at first, I thought she was kind of a whiner and a annoying. But she grew on me, once she stopped being prejudice. The other characters were pretty good too, though at first I thought that Fifer was going to be a rival for Elizabeth for John's affections but it became clear that John and Fifer just saw each other as family.
The big revelation in the book that was kind of the tipping point for Elizabeth's character, wasn't all that shocking. In fact it made perfect sense, but I still liked how it was done, and how her character handled the information.
I am really looking forward to reading the sequel when it comes out, and I am really grateful for getting a chance to read this book early. I want to buy it when it comes out.