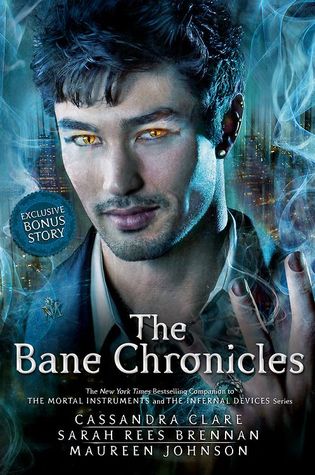 Title:
The Bane Chronicles
Author:
Cassandra Clare
,
Sarah Rees Brennan
,
Maureen Johnson
,
Cassandra Jean
(Illustrator)
Series:
The Bane Chronicles 1-11
Genre:
Urban Fantasy/ Short story/ Humor
Publisher:
Margaret K. McElderry Books
Publication Date:
November 11th 2014
Source:
Purchase
Purchase:
Amazon US
|
Barnes and Noble
|
Book Depository
My Rating:
5 out of 5
Synopsis:
#1 What Really Happened in Peru
#2 The Runaway Queen
#3 Vampires, Scones, and Edmund Herondale
#4 The Midnight Heir
#5 The Rise of the Hotel Dumort
#6 Saving Raphael Santiago
#7 The Fall of the Hotel Dumort
#8 What to Buy the Shadowhunter Who Has Everything
#9 The Last Stand of the New York Institute
#10 The Course of True Love[and first dates]
#11 The Voicemail of Magnus Bane
Review:
This book was so much fun to read. Magnus Bane is awesome and hilarious. I loved reading about his adventures and how far back he goes with the Herondale line.
Each story brought something new that I didn't know about his character, and surprisingly I learned more about Alec as well. That story was really sweet.
This was a great addition to my Shadowhunter book collection and if you are a fan of Cassie's books, you will love this collection of stories about Mr.Bane's adventures through the centuries.
I loved this book, and I am really glad I finally got around to reading it. I honestly wouldn't mind reading more stories about him. I am sure there are many more tales to tell.