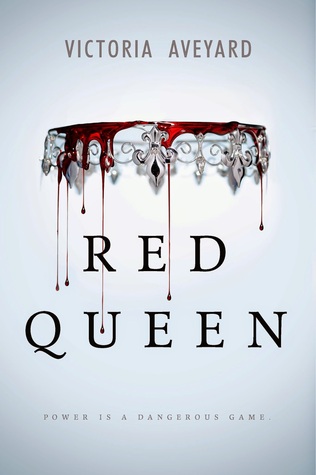 Title:
Red Queen
Author:
Victoria Aveyard
Series:
Red Queen #1
Genre:
Fantasy/ YA/ Dystopia
Publisher:
HarperTeen
Publication Date:
February 10th 2015
Source:
Purchase
Purchase:
Amazon US
|
Barnes and Noble
|
Book Depository
Synopsis:
"MARE BARROW'S WORLD IS DIVIDED BY BLOOD—those with red and those with silver. Mare and her family are lowly Reds, destined to serve the Silver elite whose supernatural abilities make them nearly gods. Mare steals what she can to help her family survive, but when her best friend is conscripted into the army she gambles everything to win his freedom. A twist of fate leads her to the royal palace itself, where, in front of the king and all his nobles, she discovers a power of her own—an ability she didn't know she had. Except... her blood is Red.
To hide this impossibility, the king forces her into the role of a lost Silver princess and betroths her to one of his own sons. As mare is drawn further into the Silver world, she risks her new position to aid the Scarlet Guard—the leaders of a Red rebellion. Her actions put into motion a deadly and violent dance, pitting prince against prince—and Mare against her own heart."
So, I had heard some fairly mixed things about this book before going into it. While the majority of people seemed to really love it, it was still compared to other books in the genre. Mainly
Red Rising
, a book I have yet to read. I still want to read it even after hearing it was similar to this one, and that it was slightly better. I didn't notice any similarities exactly like the other books it was compared to, but I did notice some similar themes from other books in general, which made things a little generic at times.
The characters were interesting, even though a couple was kind of cliche, and I found the world interesting as well. Mare was, in a way, the typical heroine. A girl placed in the public, being forced into a role she didn't want. But I liked her, she was a little naive, but then again she was barely 17 and lived in a world that was very black and white, so that is kind of to be expected when some of her perceptions got a little confused. Maven, I honestly wasn't surprised at what happened with him. I know it was supposed to be the big OMG moment, but I was kind of expecting it to happen. Especially with how he constantly talked about his brother.
While moments were cliche and generic, I still really enjoyed this book. Especially the climax, and I am really looking forward to reading the sequel.