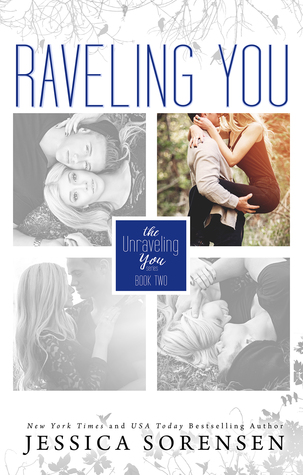 Title:
Raveling You
Author:
Jessica Sorensen
Series:
Unraveling You #2
Genre:
Abuse / Contemporary Romance / New Adult
Publisher:
Independent Publishing Platform
Publication Date:
January 13th, 2015
Source:
Kindle Store
Purchase:
Amazon US
|
Kobo
Synopsis:
"Ayden Gregory may want to keep running from his nightmares, but he no longer has a choice. His past is catching up with him. And fast. He relies on one person to keep him from crumbling. His best friend Lyric Scott.
Lyric feels helpless watching her best friend's world turn upside down. But she does her best to remain positive and upbeat. She gets their band their first gig and even with everything going on, her relationship with Ayden starts to heat up.
But when danger enters Ayden's life again, even Lyric might not be able to help him"
Review:
This book takes place right after the end of the first, had not on the brightest note. After his brother's death, Ayden goes back into his shell a little bit, if it weren't for Lyric, he definitely would have retreated more into his mind. Their friendship, even though it's starting to heat into something more, is still really strong and a natural progression, after everything they went through together.

I really do love this series, even if it does make me a little sad. Ayden is possibly one of the sweetest characters ever, and I want him to have his happily ever after more than any other character I've read. He's already gone through so much, then to have to face what he does almost all on his own, it breaks my heart for him.

I'm glad he has Lyric though, she is possibly my favorite contemporary character. She is so genuine and loyal. Where many people would've turned their back on someone like Ayden she not only stands by him but lets him lean on her whenever he needs. And it doesn't matter that they're attracted to each other, being there for someone in any way they need is a rare thing even in a friend.

The plot of this book did little to shine light on the memories Ayden has repressed, but it was still a great book. The slow process of his memories was realistic, I am excited to read the next book.