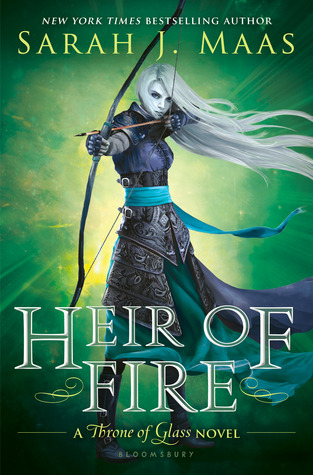 Title:
Heir of Fire
Author:
Sarah J. Maas
Series:
Throne of Glass #3
Genre:
Fantasy/ Romance/ Adventure/ Magic
Publisher:
Bloomsbury USA Childrens
Publication Date:
September 2nd, 2014
Source:
Purchase
Purchase:
Amazon US
|
B&N
|
Book Depository
Synopsis
"Lost and broken, Celaena Sardothien's only thought is to avenge the savage death of her dearest friend: as the King of Adarlan's Assassin, she is bound to serve this tyrant, but he will pay for what he did. Any hope Celaena has of destroying the king lies in answers to be found in Wendlyn. Sacrificing his future, Chaol, the Captain of the King's Guard, has sent Celaena there to protect her, but her darkest demons lay in that same place. If she can overcome them, she will be Adarlan's biggest threat – and his own toughest enemy.
While Celaena learns of her true destiny, and the eyes of Erilea are on Wendlyn, a brutal and beastly force is preparing to take to the skies. Will Celaena find the strength not only to win her own battles, but to fight a war that could pit her loyalties to her own people against those she has grown to love?"
Review:

I did it, I finally finished this book. It took me longer to read than the others; going into this book I had a feeling that stuff would happen, possibly stuff I wouldn't like. I was nervous, extremely nervous. But I held it together and read the book I've been looking forward to more than any other book.
Celaena, was not really Celaena at the start of this book. She was wallowing in self-pity and hatred. Getting drunk on rooftops all day long and barely doing anything to achieve the goal she was ordered to do. Then she meets Rowan. The first full Fae she's seen in 10 years.
Rowan is one my new favorite characters, at first he's a little prickly, but I like him. There was a good number of new characters in this book, it was a little overwhelming at first, it took me longer than I wanted to really be able to dive into this story. But once I did... I had a hard time putting this book down.
One of the new characters that we follow fairly closely in this book is a Witch from the Blackbeak clan, Manon. I really liked her character, in some ways she is a lot like Celaena, but a lot darker. I am wondering if she'll be a potential ally to Celaena in the coming books. Like a deal with the devil kind of thing, to break the seal on magic, then who knows what they'll be to each other.
Celaena under the orders of her aunt Meave is to be trained to use the magic she has in her that's been sealed away for the past 10 years. And that triggers some stuff that Celaena has done her best to hide away and forget. So for what felt like a good chunk of this book she is being a stubborn ass. But once she pulls her head out of her ass, she achieves some pretty awesome control and power. She always has character development in these books, but this was the most development shes ever had.
This book is full of all things that belong in good fantasy books. The King of Aldran is still evil, and I hate him. There are other characters that are introduced that I actually dont want to mention because they are spoilery. With all that went down in the last 30 pages of this book, I'd really like to have my hands on the next one. I am anxious and excited to read where this story goes.