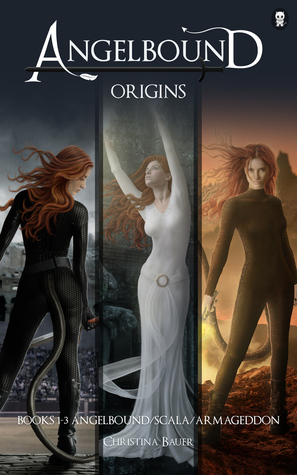 Title:
Angelbound Origins Bundle
Author:
Christina Bauer
Series: Angelbound 1-3
Genre: Urban Fantasy/ Mythology/ YA
Publisher: Ink Monster LLC
Publication Date: July 15th 2015
Pages: ebook, 750 pages
Source: NetGalley
Purchase:
Amazon US
|
Kobo
|
Barnes and Noble
Synopsis:
Myla Lewis is a girl who loves two things: kicking ass and kicking ass. She's not your every day quasi-demon, part-demon and part-human, girl. Myla lives for the days she gets to fight in Purgatory's Arena. That is, until she meets Prince Lincoln, a super-sexy half-human and half-angel demon hunter. But what's a quasi-demon girl to do when she falls for a royal demon killer? With a love with fighting for, Myla's about to shake up the after-realms.
Myla Lewis has a whole lot of trouble. A magical object called Lucifer's Orb is threatening millions of souls, and it's Myla's job to make it go away. Plus, an old enemy is plotting to separate Myla from her Angelbound love, Prince Lincoln. But Myla and Lincoln are fighting back. Can they stop the Orb, save Purgatory's souls, and stay together… Or will both the after-realms and their relationship be destroyed?
Myla Lewis once fought gladiator-style in Purgatory's Arena. Now, she's fighting again, only this time in Hell. And the stakes have never been higher. The King of Hell, Armageddon, has kidnapped Myla and Lincoln's young son, Maxon. With so much at risk, Myla knows the time has come to kick Armageddon's ass or die trying.

This series was really enjoyable. Though it took me a while to really get interested in the characters, once I did I flew through this series.

Angelbound
I think I liked Angelbound the most. It had a lot of humor and I laughed out loud more than once. Myla is so sassy and sarcastic. In most stories where the MC is different from everybody else, it comes across as cliche and boring. In this case, it was done in a way that made her character really enjoyable. It took me a little longer to like Lincoln. I didn't really buy that he was into Myla for a while. His indifference and sometimes rudeness made him seem like cliche douche that the female MC falls for, who then changes his ways for said girl. Once more about his character was revealed, it became more obvious that his feelings were real.
The plot about the scala was interesting, and I am glad that the story wasn't completely about the romance between Myla and Lincoln. Adding in the jealous mean rival girl was a tad cliche, I felt was almost unneeded considering how the story unfolded by the end of the first book.
* * *
Scala, was slightly boring at times, and many things that happened, the way they happened didn't really make sense. Adair should never have been given any kind of power as an emissary, she was kind of unstable and felt like she should have been the Scala Heir, and marry Lincoln. Two things that were taken from her. Adding in those plot pieces were the only things that moved the plot along, and they were things that didn't logically make sense all things considered.
Many things in the second book were very convenient in how they happened. I think this book could and should have had a slightly different plot to get things where they went.
* * *


Armageddon
This one is slightly more NA than YA, particularly in the first chapter.
This book, while I did really enjoy it was mostly political meetings and lots of planning for a full out war that ended in just Myla and Lincoln heading off alone. It seemed pretty pointless in the long run.
With most of the book about them planning and only the last few chapters them actually fighting in Hell, there was something left unanswered. It also felt like on more than once that there should've been a novella or something to cover the 5 years between the second book and the third book.
Also, more than once I really didn't like Myla anymore. Her being a Queen and the "Great Scala" seemed to have given her a superiority complex. In the first and even the second book all she seemed to want was to be treated like everybody else, not liking when she was called Great Scala, instead of by her name. Then there was her and Lincoln firing staff left and right, it didn't seem like either of them were the same characters we first met, I get they are older, but they behaved like they were younger.
After they trek off to save their son, I saw glimmers of the warrior characters we first met.
I plan on reading the spin-off series. Maxon as an adult sounds like he could be a pretty interesting character.