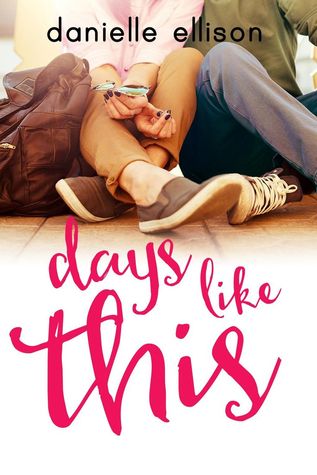 Title:
Days Like This
Author:
Danielle Ellison
Series:
Landslide #1
Genre:
Contemporary/New Adult/Romance
Publisher:
Bookish Group Press
Publication Date:
June 2nd 2015
Source:
NetGalley
Purchase:
Amazon US
|
Kobo
|
Barnes and Noble
My Rating:
3 out 5 Stars
Synopsis:
"Sometimes the only thing standing between fear and hope is you.
Almost a year ago, nineteen-year-old Cassie Harlen had a lot to deal with. A stack of college acceptance letters waiting for answers, a proposal from the boy next door, and a mother whose most recent bipolar episode left Cassie hurt and confused. Tired of cleaning up the messes caused by her mother's disorder, of resenting her mother for not being there, and scared of being trapped by an inevitable future—which included marrying Graham Tucker—Cassie did the only thing she could think of to keep from ending up like her mother: she left.
Graham never knew why Cassie walked away. He woke up one morning and she was gone—along with the life that he'd created around her. After eleven months, Graham has a new plan for his future. One that doesn't involve Cassie Harlen.
When Cassie's mom nearly burns down her house, Cassie's forced to return home. Back to a mother she's tried to ignore and the guy she's been unable to forget. Graham doesn't know how he's going to spend the whole summer living next door to the person who broke his heart without letting those old feelings push through to the surface.
Neither does Cassie."
Review:
I don't really know how I feel about this book. It was just kind of okay. There wasn't anything that really made me think of it as a "bad" book, but also nothing really set it apart to make it a great book.
Cassie was, at times, really boring. Sure her mom has bipolar, and she uses that as an excuse to keep people away. While it's not the most logical thing to do, it is a very human thing to do. Especially when you are a scared 18 year old who has had to deal with it alone your whole life. But, it made her character boring. And there was nothing other than what we were told as to why all the boys seem to fall for her so easily. With Graham it just seemed like it happened because they grew up together and their friendship just developed into love. But even still, it felt a little forced and I didn't see why they would love each other beside the fact that they kept saying they were in love.
Graham, or Mike... it's explained in the book, his character was even more flat than Cassie at times He was just a really boring character. He spends half his time comparing his new girlfriend to Cassie or just thinking about her in general, and the rest of time telling himself that he feels nothing for her. Everybody was pretty boring in this book. The only interesting character was June, Cassie's best friend from college.
The book also ended in a really strange place. It felt like there should have been more and that lowered the rating because I thought this book was a stand-alone, since both Goodreads, and NetGalley didn't give any indication that it was part of a series. I didn't know that it was until I started looking for the purchase links and all the sources had a "A Landslide Novel #1" attached to it. If there is a sequel, I might read it, depending on who it's about.